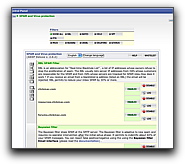 A very effective built-in spam protection system called ASSP is located in your web hosting control panel and can be turned on or off at the click of the mouse.
ASSP is often referred to as the most powerful and accurate spam protection system available in the industry, and for good reason.
The ASSP spam protection system includes a unique combination of numerous effective filters such as Bayesian, Penalty Box, DNSBL/RBL, URIBL, SPF, HELO, PTR, MX/A, Clam-AV virus scanning, and more.
Even so, ASSP requires very little configuration; you do not need to continually update it with details of your email accounts, mailing list memberships, etc. ASSP does this for you when you go about your daily email routines.
You can use this spam filter in conjunction with any other anti-spam tool you already use at your computer, if you wish. However, if you're like most users, you'll find that this entirely unnecessary. With ASSP alone, the amount of spam you receive in your inbox will be reduced by 90% or more!
If you're worried about false positives, every mailbox that you create includes a spambox (spam folder) in which 7 days' worth of spam messages is kept.